Workshops, Lectures and Trunk Shows
"Trunk Show"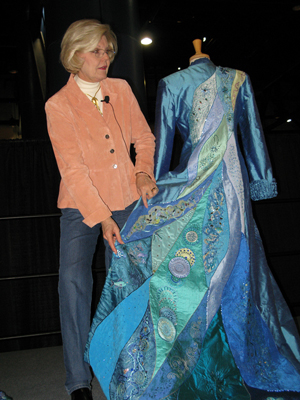 This lecture style show gives attendees the opportunity to get upclose and personal with many of the garments I have designed over years of creating art-to-wear, including my Bernina Fashion Show garments.. Various techniques and construction methods are discussed in detail, and attendees will have ample opportunity to ask questions and examine the garments. This show is designed to encourage sewers to stretch their imaginations and try letting their internal artist out to play in the fabrics. Inspiration is always my goal when presenting this trunk show.
Browse my GALLERY for examples.
"The Fascinating Adventure of Free Form Manipulation"
This workshop covers all those fun, beautiful and liberating things you can do to fabric. Whether you enjoy making garments, quilts or home decorating projects, you will love this workshop. Students learn how easily you can turn that plain piece of cloth into something with individuality and enchantment. Each piece becomes a one-of-a-kind art object. Learn to master scrunching, pintuck meandering, candling, free motion thread painting, circle embroidery and many more. I have used these techniques extensively in many of my competition garments, as well as home decorating projects. This class is also a great way to learn what all those funny looking machine presser feet do. Try experimenting with various fabrics you've probably been overlooking. The great part is…there's no such thing as a mistake in fabric manipulation…only serendipitous design opportunities.
See examples in GALLERY under Embellishments. Also check out Bernina Fashion Show 2001.
This workshop is offered as:
Three-Hour Workshop spends more time on lecture demos with some hands-on, as time allows.
Six-Hour Workshop allows me to cover more techniques, and gives students time to try them. The more time we have together, the more I can show and the more students can try, with me there to guide them.
Two-day Workshop (Recommended) allows for time to cover lots of techniques, and put pieces together in either a vest front, a tote bag, a pillow cover or a wallhanging.
"Needle Felting Art" (a.k.a. Needle Punch)
This is almost too much fun to be legal! Creating flowers, leaves, vines, trees, geometric shapes, etc. is fun and easy with barbed felting needles. Whether you prefer the slower, more controlled method of using a hand held tool with 5 needles, or a sewing machine with a needle felting attachment such as Bernina's Punch Tool, the results will be breathtaking. I will show you how to use wool yarns and/or roving to create your designs. I will have drawings for those of you who prefer a pattern to follow, but I will also encourage you to cut loose and try some free form designs.
NOTE: Thread painting and beading are covered in the Six-Hour workshop only.
This workshop is offered as:
A Three Hour Workshop or a Six Hour Workshop
See examples in GALLERY under Needle Punch Felting
"Needle Felted Hat"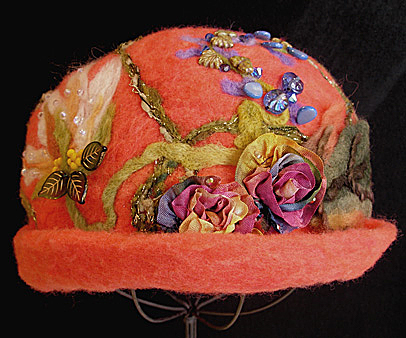 .
This workshop will give you the tools and skills to create your own custom hat to wear with any outfit. Whether you choose a casual design,or sparkle it up with rhinestones and beads, it will complete your look. A KIT is added to this class. You will leave with a completed hat, plus the tools and form to make others. All you will need to add is more wool roving and yarns to make numerous additons to your wardrobe of lovely bonnets. Fun and easy, this workshop will have you making hats for the whole family.
Due to ever changing supply costs, KIT fee will be determined at time of workshop booking.
NOTE: This workshop is offered as a Full Day class only.
"So Much to Applique...So little time!"
There
are so many methods for applique. This workshop will guide you through different types of applique so you will be able to determine which method to use, at any given time, to achieve the look you want in your project. From free form raw edge to simple ways to do turned edge, blind stitch applique, or machine embroidery applique, all are fun and easy once you know the tricks. Offered as Three-Hour or Six-Hour workshops.
See examples in GALLERY under Applique. Also check out Bernina Fashion Show 2003 and 2005 on this site.
"The Creative Process"
This is a Lecture/Demo style format. How to go from concept to reality in the world of fabric art. Many artists lose their way from idea to completion. How many great pieces of art have you only made in your head? Are you sabotaging yourself? Learn the steps to get you from your initial idea to actually completing a project. What are the steps and how to progress through them. Bring an idea, and let Toni move you through the journey.
Two to Three hour lecture, depending on amount of student participation.
FEES for all workshops
Trunk Show…………………………………$285 plus Expenses
Lecture/Demo.............................................$275 plus Expenses
Three-Hour Workshop………………………$295 plus Expenses
Six-Hour Workshop…………………………$495 plus Expenses
Two-Day Workshop…………………………$875 plus Expenses
Workshop maximum: 20 students, unless other arrangements are mutually agreeable.
No maximum attendance for Trunk Show or Lecture/Demos
Expenses consist of mileage based on IRS guidelines at time of workshop (currently .55 cents per mile), for locations within 150 miles from my home in Florida in winter, or North Carolina in summer. Call for exact dates. Airfare where required, hotel and meals at workshop location, and shipping charges or excess baggage charges for garments in Trunk Show if I have to fly to your location. I am happy to stay with a member of your Guild or Shop to help hold down expenses. I do require a private bedroom with private bath in a non-smoking home. Pets are fine. I enjoy most types of food, and a glass of wine if offered, and have no food allergies.
I will provide descriptions of classes for promotion and can email photos to be posted on your web site, or you could simply link interested students to my web site to see my work and read more about my background. Supply Lists for workshops will be mailed or emailed to coordinator of workshop well in advance of scheduled date of workshop. It will be the responsibility of each student to acquire and bring all supplies to class. There are no kits provided unless specified in the workshop write-up.
Fees subject to change until contract is signed by both parties and deposit is received.
Some other restrictions apply. Please contact Toni for more information.
More workshops are coming...so please check back!
NOTE: See something you'd like in a workshop? I have taught workshops on almost every technique featured on this website at one time or another. I will be happy to custom design a class or lecture/demo to meet the special interests of your Shop/Customers or Guild/Group.
Please click on my email address below. Tell me about your group and what you'd like.
Please do not hesitate to contact me with any questions.
Toni Carroll
email: ttcarroll@mindspring.com